Mobile Manipulators for complex industrial assembly and logistics operations
INESC TEC, CRIIS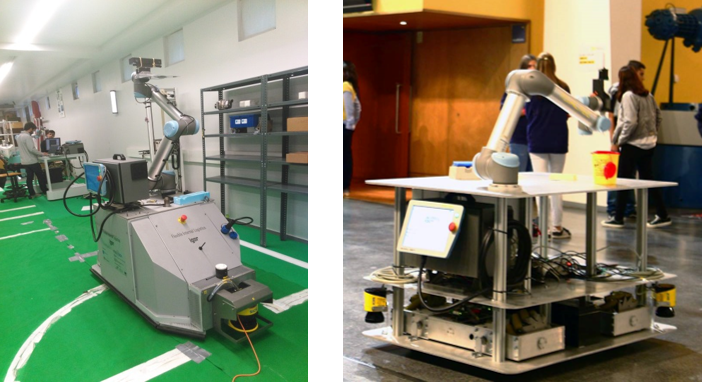 A Mobile Manipulator is a robotic system composed by a robotic arm mounted on an autonomous mobile platform. The usage of Mobile Manipulators for internal logistic and assembly operations can not only increase the level of automation, thus enhancing the competitiveness of manufacturing companies, but can also avoid repetitive strain injuries in the workforce, improving ergonomic issues.
The development of Mobile Manipulators for industrial application is a multidisciplinary problem that requires the integration of different systems, namely localization, navigation, trajectory planning, and perception. The developed systems should be able to be reused considering robots with different hardware configurations but with the same capabilities. Therefore, we are working on a new paradigm based on the concept of abstract robotic skills and on their hierarchical structuration through a central managerial module.
These robotic skills will be implemented over primitive software layers that model the reusable operations, which, in turn, transforms abstract commands into hardware-specific controls. The robotic skills can then be programmed, taught by a human operator by demonstration, or automatically created through CAD models or the analysis of the Standard Operation Procedures (SOP) provided by the vertical integration mechanism with Manufacturing Execution Systems (MES).
Mobile Manipulators will be a key component of the Factory of the Future, as they will open possibilities for manufacturing in small and medium enterprises.
Assisted assembly and robotized welding station for the structural steel construction industry
INESC TEC, CRIIS

The structural steel pre-production is mainly composed by cutting and welding of substructures that are later assembled on site. Among these, operations such as cutting, drilling and marking present nowadays a reasonable level of automation, either using mechanical tools or thermal processes (plasma or oxy-fuel). On the other hand, the full automation of the welding operations is rare and requires machines that are not suitable for the SME scenario due its complexity, upstream material dimensional control, cost and space requirements.
To face this challenging problem, we developed a collaborative robotic station (prototype), that combines offline programming software, advanced perception and augmented reality (projection mapping system mounted in the robot structure) in order to obtain a flexible manufacturing cell, especially suited for production in SMEs. In this approach, the robot is responsible for the longest and most repetitive tasks (welding), thus freeing the operator for the tasks with the most added value (assembly).
This collaborative robotic cell can be installed in metal-working factories, increasing productivity when compared with the traditionally manual manufacturing, in line with the goals of Industry 4.0 and of the strengthening of the metal-working industrial fabric.